About us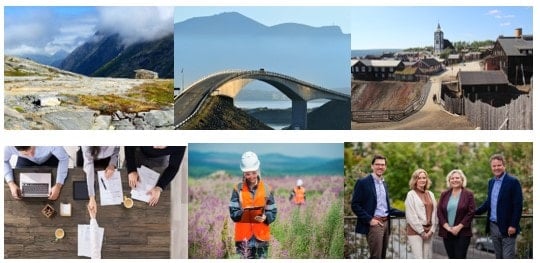 Who we are
Norwegian Mineral Industry's administration consists of four employees in the NHO building in Oslo. Secretary General Anita Hall is head of the administration.
Our history
Norwegian Mineral Industry was founded on 28th of March 2008, and is a merger of the three associations Bergindustriens landssammenslutning (BIL) established in 1907, Pukk- og grusleverandørenes landsforening (PGL) established in 1972 and Stenindustriens landssammenslutning (SIL) established in 1952.
Our aim and our member companies
Norwegian Mineral Industry works for better framework conditions for our members within:
Aggregates
Minerals
Natural stone
as well as suppliers of goods and services to the industry.
Our society needs mineral and mining industry
We need minerals and building materials into the green shift, otherwise we will not reach our value creation or climate goals.
Norway's wealth is inextricably linked to our natural resources. The green shift and our modern society presupposes a great growth in the use of many minerals and building materials. Solar cells, wind turbines, electric cars, smartphones, batteries and power cords - all this requires minerals.
Norway has significant mineral resources that can contribute to Europe's resource supply, including titanium minerals, ilmenite, lime, graphite, olivine, iron ore and right quartz. In addition, Norway probably has the largest occurrence of REE in Europe.
Our most important task is to ensure that society understands how important our industry is for our future welfare.
Our departments
We cooperate with governments at all levels to ensure a positive development for the Norwegian mining industry. Our voice gets stronger as we grow more members. We work most closely with:
Membership benefits
A network of industry colleagues
Access to industry collaboration, be heard and participate in the joint work to improve framework conditions
Discounted prices on a large number of current courses and conferences
Access to advice from our professional committees and supplier members
Discounted price for the Environmental Product Declaration (EPD)
Access to the reporting program «TSM - a sustainable mining industry»
Opportunity to participate in the trainee program
Membership in European associations that we ensure that our members get a voice within European institutions at all levels
Access to relevant HSE regulations, conferences and the opportunity to influence how the industry becomes even safer
Read more about the basics of Norwegian labour law here
Here you can read more about frequently asked questions about the Minerals act in Norway.
How much does it cost to be a member?
Annual fee is NOK 100 and a service fee corresponding to 0.75 per thousand of relevant turnover. Minimum service charge is 1/10 G and maximum is 2G. Members of The Federation of Norwegian Industries receive a discount of 25% up to 1 / 4G.
You can read more about «G» here